DQS Ukraine
DQS Group, established in 1985, is a reliable partner for certification and assessment of quality-oriented companies throughout the whole world – companies with a serious attitude towards organizational health and sustainability. Through our audits, assessments and certifications we help companies to achieve sustainable success in business.
About DQS
International Network
DQS Auditors & Experts
History & Shareholders
Ethics & Compliance
Executive Management DQS
Jobs & Cooperation Opportunities
IQNet
Accreditations
COVID-19 "Coronavirus": How we support our customers
About DQS Group
DQS Holding GmbH is the headquarters of DQS Group and as such controls the international business development of 80 offices in 60 countries. With a total group turnover of about 120 million Euros (as of 12/2015), the group is among the top 10 of certification service providers for management systems.
With over 2,500 international auditors and experts in virtually every industry sector, DQS ensures a high level of expertise as well as consistency in values and audit principles. Today, the service portfolio of DQS Group comprises assessments and certifications to more than 200 different standards, plus unique company-specific requirements.
Our outstanding customer loyalty of 98% proves that our customers see DQS as their preferred partner.
Since 2019, the official representative of DQS in Ukraine is the certification body of LLC "DQS CERTIFIC UKRAINE", which works on behalf of DQS on the basis of a license agreement.
International Network
In today's highly connected global economy you expect a trusted partner who can work with you in every location in which you conduct business.
The global DQS team brings local certification expertise to all major economic centres around the world:
DQS works with local auditors who speak the language and know the culture at each site, delivering value-adding and cost-effective services to companies they understand.
85 DQS offices in 60 countries provide trusted local expertise on industry best practices, regulatory requirements, and market knowledge. Being close to their customers, our international management team can focus on what excites our customers worldwide. Local customer service personnel provide trustworthy service close to home.
As the preferred certification and assessment partner of large international companies in the world, DQS has extensive experience and a very strong reputation when it comes to international project management.
IQNet – The International Certification Network
The second pillar of our international presence is IQNet. With over 35 partners, IQNet is the largest international network of certification bodies, having issued approximately one-third of all management systems certificates in the world.
Via the IQNet cooperation, DQS Group customers can take advantage of over 40 international accreditations and additional services that are offered in cooperation with IQNet partners.
Michael Drechsel, Managing Director of DQS Holding GmbH, was President of IQNet from June 2010 to June 2017.
Audit as a dialogue
DQS auditors see an audit as a professional dialogue among equal partners. Rather than completing checklists, DQS auditors focus fully on the auditee and on understanding individual management systems.
Tailor-made audit planning
Each audit is planned individually and based on the needs of each organization. This includes the maturity of the management system, technological, economic or cultural conditions and key topics of an organization. As the majority of our auditors are qualified not only for quality management standards but also for additional specialized areas, such as environmental, health and safety, automotive, energy management and others, DQS Group can provide our customers with a competent team for almost any combination of standards.
Technical competence
All DQS auditors have a complete professional education, university degrees and real business experience. Amongst our auditors are medical doctors, engineers, food safety experts, biologists, finance specialists, professors and many more. In addition to this, they also have extensive experience in management techniques and systems, and a proven record of hands-on experience in the various industry sectors they audit. Our customers benefit from their expertise.
Qualification and training
DQS promotes a harmonized audit approach and a common understanding of standard interpretations. To that end, we organize a yearly worldwide mandatory auditor training program, which includes topics like an interpretation of standards, audit techniques, interview methods and case studies.
Audits as motivation
DQS auditors create a working environment which allows all people involved to genuinely represent their field of activity. The goal is finding strengths as well as valuable improvement potential. Social competence of DQS auditors and respect are essential for a successful audit.
History & Shareholders
In 1985 DQS was founded by its then two main shareh
olders, DGQ (German Society for Quality) and DIN (German Institute for Standardization). The German industry associations HDB, Spectaris, VDMA and ZVEI completed the original shareholders. Since the merger with Underwriters Laboratories' QRS division in 2008, UL has become an additional large shareholder of DQS Group.
Today our shareholders are the guardians of DQS' corporate values and its high-quality approach. Representing certified organizations from various industries, our industry associations mandate pragmatic customer focus and excellent service. DIN ensures direct access to and involvement in the newest international standard developments. DGQ and UL promote excellence in education and competence of our personnel, consistently worldwide.
Impartiality and objectivity
During all assessment and certification activities, the management of DQS Holding is strictly committed to impartiality as an essential element in the conduct of audits and certifications. The potential conflict of interest is managed to assure the objectivity of all certification activities.
The value of DQS certificates is in the degree of confidence and trust that customers and markets place in DQS. Customers of certified organizations and end-users expect to rely on DQS certificates. To promote this confidence, DQS takes into account the following principles in all of its activities:
Impartiality
Competence
Responsibility
Openness
Confidentiality
Responsiveness to complaints
Ethical business practices
Impartiality requires independence from any undue influence upon certification decisions, which shall be objective and purely fact-based. Competence is a key asset in ensuring professional audits that lead to valid results. Every employee in every function shall be duly competent for their assigned tasks. At DQS we take responsibility for our activities and their results.
For a certification body, openness means unrestricted access to certification services without any undue discrimination. Confidentiality is another key asset in building sustainable business partnerships with our customers. Professional data and information protection is a continuous activity at DQS.
A corporate code of ethics has been established, defining consistent corporate values and principles in all DQS organizations worldwide.
Policy on Handling Complaints and Appeals
DQS Group commits itself to the effective, efficient and customer-oriented treatment of complaints and appeals. Feedback from customers, which also includes complaints, is considered an opportunity for improvement of our services. For this reason, DQS Group is interested in all feedback, including complaints, if needed.
Executive Management
Michael Drechsel

Managing Director DQS Holding GmbH

Ingo M. Rübenach

Managing Director DQS Holding GmbH
Viktor Yahodzinsky
Managing Director
LLC DQS CERTIFIC UKRAINE
Vitaliy Sheruda

First Deputy Director

for Management Systems Certification

LLC DQS CERTIFIC UKRAINE

Olena Prachova

Deputy Director

for Certification Organizational Support

LLC DQS CERTIFIC UKRAINE
Jobs & Cooperation Opportunities
The continued and sustainable success of DQS Group lies in the competence, attitude and vision of our people and our cooperation partners. Whether you are an auditor, specialist, or business professional looking for a job at an international high-end certification body, DQS Group offers plenty of career and business opportunities. We also provide opportunities for potential cooperation partners with relevant expertise.
Auditors
Are you a certified auditor? Join our highly competent team! DQS Group operates across the globe and welcomes applications from any region. Because our business is continually expanding, we are looking for qualified third-party auditors in many sectors of management systems certifications.
Interested? Please contact us with your inquiry/application.
Professionals
Certification is so much more than auditing itself. DQS offices around the world are regularly looking for new colleagues to join their team. Contact your local DQS office for more information.
Partners
Are you looking to cooperate with a top certification body? There is a range of cooperation possibilities with DQS Group for any organization whose vision includes Quality with a capital Q. Please contact us and let us know your ideas for cooperation.
IQNet
IQNet International Certification Network is a non-governmental, non-profit organization established in 1990 under Swiss law and headquartered in Bern, Switz

erland.
IQNet currently brings together 37 leading certification bodies with more than 200 subsidiaries worldwide.
IQNet members are world-renowned management system certification bodies:
AENOR (Spain), AFNOR Certification (France), AIB-Vinçotte International (Belgium), ANCE-SIGE (Mexico), APCER (Portugal), CCC (Cyprus), CISQ (Italy), CQC (China), CQM (China) , CQS (Czech Republic), Cro Cert (Croatia), DQS Holding GmbH (Germany), DS (Denmark), FCAV (Brazil), FONDONORMA (Venezuela), ICONTEC (Colombia), IMNC (Mexico), INNORPI (Tunisia), Inspecta Certification (Finland), IRAM (Argentina), JQA (Japan), KFQ (Korea), MIRTEC (Greece), MSZT (Hungary), Nemko AS (Norway), NSAI (Ireland), PCBC (Poland), Quality Austria Austria), RR (Russia), SII (Israel), SIQ (Slovenia), SIRIM QAS International (Malaysia), SQS (Switzerland), SRAC (Romania), TEST-St.Petersburg (Russia), TSE (Turkey), YUQS (Serbia).
IQNet members have issued more than 310,000 certificates in more than 150 countries, which is 30% of the global market for management systems certification.
The IQNet partnership has more than 17,000 auditors and experts to conduct audits in all major economic activities, in more than 30 languages.
IQNet is currently the largest international certification network.
Benefits for IQNet customers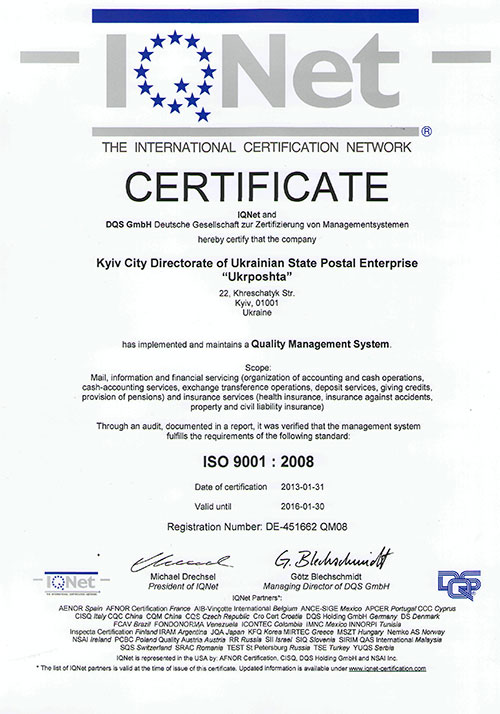 Improvements in the production and provision of enterprise services and facilitation in international trade; worldwide availability of services in the field of international certification; the only harmonized approach to audits and certification of global consumers.
The main marketing tools of IQNet are – a certificate and a certification mark
The IQNet certificate is the main evidence for the international recognition of management systems by all IQNet partners. It is always issued together with the partner's certificate; both documents have the same period of validity. The IQNet certificate in English serves as a global passport for all DQS customers and other stakeholders throughout. The use of the IQNet certification mark is possible for advertising purposes, on cars, hotels, in newspapers, on company letterheads, in brochures, etc.
IQNet is directly involved in the development of standards and guidelines, provides support in the work of international organizations, as a member of the following organizations:
IAF (International Accreditation Forum)
EA (European Association for Accreditation)
ISO / CASCO (Conformity Assessment)
ISO / TC 176 (Quality Management, ISO 9001)
ISO / TC 207 (Environment, ISO 14001)
QuEST Forum (Telecommunication; TL 9000)
EFQM (European Foundation for Quality Management)
CIES (Food Industry Forum)
GFSI (International Food Safety Initiative).
The main goals of IQNet:
Recognition and promotion of certificates issued by IQNet Members;
Satisfying customer requirements by providing them with innovative services that add value;
Providing global quality assessment and certification services at the international level.
After certification in the DQS Group, our client has the opportunity in addition to the main certificate to obtain a certificate of a single international standard IQNet, and if necessary, without additional checks to issue a certificate of any of its members.
IQNet certificates can be issued at any time during the period of validity of the main certificate. The IQNet certificate issued by DQS companies in addition to the main certificate, according to the standard for which the certification was conducted – the main evidence of international recognition of DQS.
Accreditations
DQS Group assesses management systems and processes based on about 100 nationally and internationally recognized standards and specifications.
By way of its international accredited offices, the group can also offer certification by various national accreditation bodies in different countries, amongst them DAkkS, UKAS, ANAB, VDA QMC and UNIFE.
For a more complete overview, we invite you to visit the website of DQS GmbH.
COVID-19 "Coronavirus": How we support our customers
As of today, the Coronavirus continues to spread globally. DQS is observing the developments very closely.
Our primary concern is the health and safety of our customers, employees and auditors and the communities we operate and live in while giving everyone the information to make the necessary decisions.
We are in close contact with our accreditations bodies, our offices and auditors worldwide in order to give our customers the right information needed to mitigate the impact on their respective organisations and how we as DQS are prepared to help our customers to manage their business operations and management system requirements during this pandemic event.
In cases where your organization is impacted by the outbreak of COVID-19 and/or you need advice about postponement or changes of a planned audit, please provide the necessary information to the DQS Ukraine office to assess the feasibility of an audit based on the following major issues:
Can the audit take place as scheduled?
How is the extent of the current limitations to the facility/organisation:

Is it possible to access parts of your facility/organisation?
Who is available?
Have you the needed technology / experience with remote meetings such as video conferences?

It is also important to know what kind of audit is currently been planned: is it a re-certification audit or a surveillance audit? For which standards are you certified?
What are the specific process-orientated risks for your business?
These are just some questions, which need to be answered in order to assess the next steps. Based on a close exchange with our customers a customer-tailored solution will be provided and defined together.
We are here to support you. There might be additional risk considerations to discuss with your Customer Service Professional as we continually monitor regional issues and the development of this pandemic event.
Different rules apply to different schemes and standards, not all of which can be covered in detail by the guidelines of Corporate Headquarters. Hence, some DQS accredited offices have created information pages and documents in response to the most frequently asked questions for the assessments on specific standards in their field of business.
In addition, DQS publish links to the information of our two largest offices holding accreditations either by the German accreditation body DAkkS or the U.S. accreditation body ANAB. Please read these guidelines carefully.
Please report any questions and concerns to the DQS Ukraine office, feel free to contact our staff and your auditor!